We live the headlines and statistics every day - new COVID-19 cases, new COVID related deaths, lockdowns, rules and regulations, and the list goes on and on. Something that's only recently gaining more attention is the post-COVID recovery process and the lasting effects COVID is having on those who recover. Many hospitals and health systems have taken to telehealth and remote patient monitoring (RPM) programs to expand their patient support. They're using telehealth to not only screen for COVID symptoms but to monitor COVID-positive patients. Beyond the symptomatic period, clinicians are continuing to monitor patients that have been deemed "recovered."
The number of telehealth and RPM programs being offers to patients has soared throughout the pandemic. As hospitals continue to limit admissions of non-critical COVID patients, more at-home treatments are being offered. In many cases, when the patient is no longer positive and the patient is seemingly recovered, some symptoms and side-effects linger.
Common long-term COVID-19 symptoms
After being discharged from the hospital or no longer testing positive, some patients have the additional burden of managing long-term COVID-related symptoms and side-effects. COVID-19 is most commonly known for affecting the respiratory system, but there are many long-term effects that are still being identified. Most commonly, healthcare providers have noted that the virus is affecting organs like the kidneys, lungs, and heart - including scarring, organ failure, and inflammation - as well as affecting brain functions like cognition, behavior, and other mental health conditions.
Unknown side effects and long-term symptoms
The more patients that develop long-lasting side effects from COVID, the more doctors, clinicians, and researchers around the world have conducted research to study them and develop a better treatment or care management plan. In a study conducted out of the United Kingdom, researchers used a telephone screening tool to monitor 100 patients with COVID-19 symptoms from 4 to 8 weeks post-COVID discharge. Some recorded COVID side effects included new-illness fatigue, breathlessness, and psychological distress (PTSD-like symptoms). Studies like this one show symptoms affecting various parts and functions of the body—symptoms that may not have presented themselves during the initial illness.
For some COVID-19 patients, daily tasks as simple as walking to the restroom or standing in place have become increasingly difficult, even after the virus has subsided. As part of their recovery programs, healthcare providers are using telehealth to connect with patients at home—offering personalized rehabilitation plans including suggestions from pulmonologists and physical therapists:
Breathing exercises to strengthen and rebuild lungs
Sitting while cooking to reduce fatigue
Marching in place for a short period of time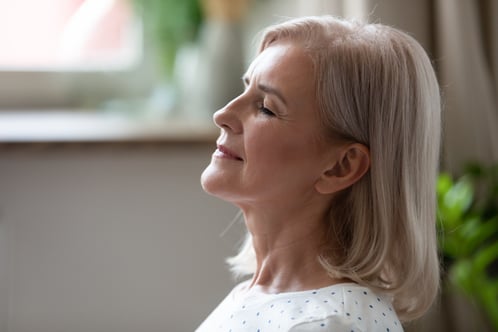 Among other benefits listed by this Paper Gown article, providers are more present through virtual visits and can determine the next steps by seeing a patient's physical breathing pattern and body language.
Post-COVID recovery options
While attempting to find a "post-pandemic norm," the world is also challenged in the virtual treatment of COVID-19 side effects. Healthcare providers are utilizing video visits, Bluetooth peripherals, telephone check-ins, and more to meet the needs of their patients.

HRS client, Hackensack Meridian Health, opened the COVID Recovery Center, New Jersey's first center dedicated to assisting COVID-19 patients during their recovery. They offer telescreening for patients who need additional care and help create customized care plans with the help of care center physicians. Care plans include alternative treatments and rehabilitation—both in-person or virtually—and continuous monitoring and adjustment by a care team.
COVID recovery centers are opening up around the country at a rapid pace. Patients are referred to care centers when they continue to exhibit and even develop new symptoms. Bringing rehabilitation and support to patients in their homes helps reduce anxiety, brings them comfort, as well as reduces the risk of infection to both clinicians and patients. As the pandemic continues into what could become a third wave in the country, telehealth and RPM programs have offered unique options for long-term care and monitoring.
Moving forward with COVID recovery
It's been over a year since the first COVID-19 infection hit our country. Cases have reached nearly 30 million, and deaths continue to rise over 470,000. Telehealth and RPM have played an enormous role in the recovery and rehabilitation of COVID-positive patients, growing in popularity, adoption, and acceptance among both patients and providers. It has allowed them to recover at home while freeing up hospital beds and staff as the number of severe COVID cases continue to present. Patients and clinicians alike are determining the best course of action for recovery plans and long-term symptom management.
Next week, we'll discuss COVID-19's impact on mental health and cognition—and how telehealth can help.