In the United States, 10,000 people turn 65 each day, and according to Statista, it's expected that by 2050 22% of Americans will be 65 or older (a significant jump from 16.5% in 2019). Our aging population, coupled with rising healthcare costs and individuals' desires to "age in place" introduce complex challenges in how care is delivered across this country.
---
In the United States, a small portion of the population accounts for a large share of healthcare spending each year. In 2016, around 5% of the population accounted for half of all health spending—this 5% on average spend around $50,000 annually on healthcare. This is because high utilizers (the elderly and those with serious or chronic conditions) require more frequent and higher cost services.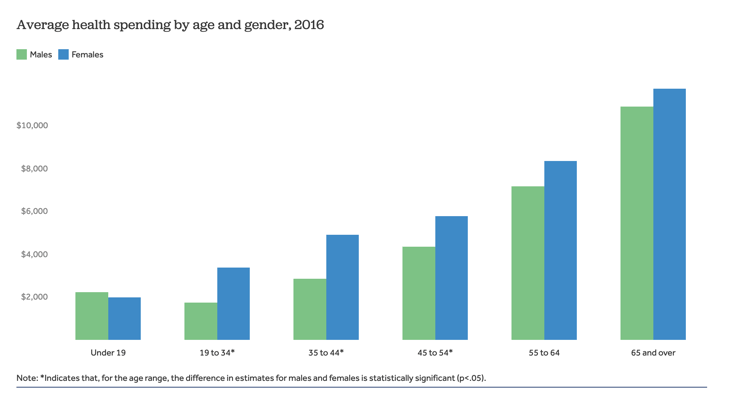 Source: Kaiser Family Foundation analysis of Medical Expenditure Panel Survey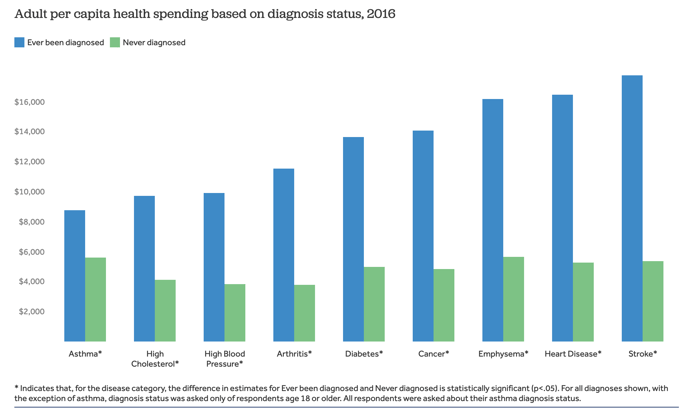 Source: KFF analysis of Medical Expenditure Panel Survey
For years, healthcare stakeholders have been focused on finding ways to reduce cost of care without jeopardizing patient safety. Today, many health systems are incorporating Hospital at Home programs— a model that has shown to reduce healthcare costs by 30% or more—into their care delivery strategies.
---
---

COVID-19 Fuels Hospital at Home Program Adoption
Largely fueled by COVID-19, patients are now more comfortable than ever receiving care at home, and providers are more likely to adopt solutions that make at-home care efficacious and safe. When COVID-19 hit, providers quickly and creatively figured out how to deliver care safely to their patients, many adopted telehealth and remote patient monitoring for the first time to provide care to patients at home.
As COVID-19 subsides in the United States and the world starts to return to a sense of "normalcy," many of the changes that a few years ago seemed forced, remain. The Hospital at Home and it's proven efficacy is one of these innovations. Even as the country reopened, patients and their providers still wanted to leverage models like the Hospital at Home.
Acute Hospital Care at Home Waiver
CMS is on board with the model. To date, 305 hospitals across 129 health systems, in 37 States have been approved for the Acute Care at Home waiver program, a program that allows Medicare payments for additional services provided in the home. Under the 2023 Consolidated Appropriations Act, the initiative has been extended through December 31, 2024.
Under the waiver, dozens of conditions are covered including asthma, pneumonia, congestive heart failure, and many other acute conditions. Beyond CMS, many other industry leaders have started to extend care beyond the hospital. From large health plans like Humana and Anthem, to health systems like Intermountain Healthcare and the Mayo Clinic, healthcare stakeholders are on board for home-based hospital care.
We're already seeing what we've seen time and time again—payers follow the lead of CMS. When CMS takes a stance, commercial payers often follow. More than ever, both CMS and commercial payers see the value of leveraging hospital at home programs. The demand for care in the home will not subside along with the pandemic—patients, providers, and payers, are on board with this new model of care.
Important Considerations When Launching a Hospital at Home Program
At this point you probably understand the benefits—home-based care is more affordable, convenient, and comfortable. You might now be wondering how you can effectively launch a Hospital at Home Program.
There's a lot to consider, and the program is not one-size fits all. Our partners, Allina Health, and Michigan Medicine have active Hospital at Home programs, and suggest focusing on these 5 areas off the bat:
Setting clear program goals
Determining patient eligibility, selecting Patients for the Program, and prioritizing patient safety
Build a robust program team and provide continuous internal education
Ask the right questions and plan ahead for challenges
Harness the power of telehealth
---
---
What's Next for the Hospital at Home
Hospital at Home programs are here to stay. COVID-19 flung the door wide open to home-based hospital care, and health care stakeholders understand it's value. Now, the ball is in the court of CMS and commercial payers courts to ensure payment is possible for the model into the future.