REMOTE PATIENT MONITORING CASE STUDY
FirstHealth of the Carolinas Case Study
FirstHealth Launches Care at Home Program with Telehealth and Remote Patient Monitoring
Serving communities across North Carolina, FirstHealth of the Carolinas is comprised of four hospitals, primary care clinics, specialist practices, convenient care clinics, home health, hospice and palliative care, and a philanthropic foundation.
In 2015, FirstHealth partnered with Health Recovery Solutions (HRS) to launch a telehealth and remote patient monitoring (RPM) pilot program, reducing hospital readmissions by 53% over six months.
As COVID-19 cases continued to rise across North Carolina—peaking in January 2021 with nearly 12,000 new cases recorded in one day—FirstHealth faced several challenges to staffing, resources, and community spread.
FirstHealth launched the COVID Care at Home (CCAH) program focused primarily on addressing the main challenges of bed availability and controlling ED surges. In addition, the CCAH program sought to:
Prevent community spread through the rapid identification of COVID-positive patients and provide monitoring free of charge.
Decrease length of stay and increase hospital bed capacity by evaluating patient risk based on PRIEST Score, O2 saturation, gestalt assessment, and breathing, among other factors.
Reduce ED visits through monitoring and early community intervention.

Protect healthcare providers by offering telehealth consultations, maximizing PPE.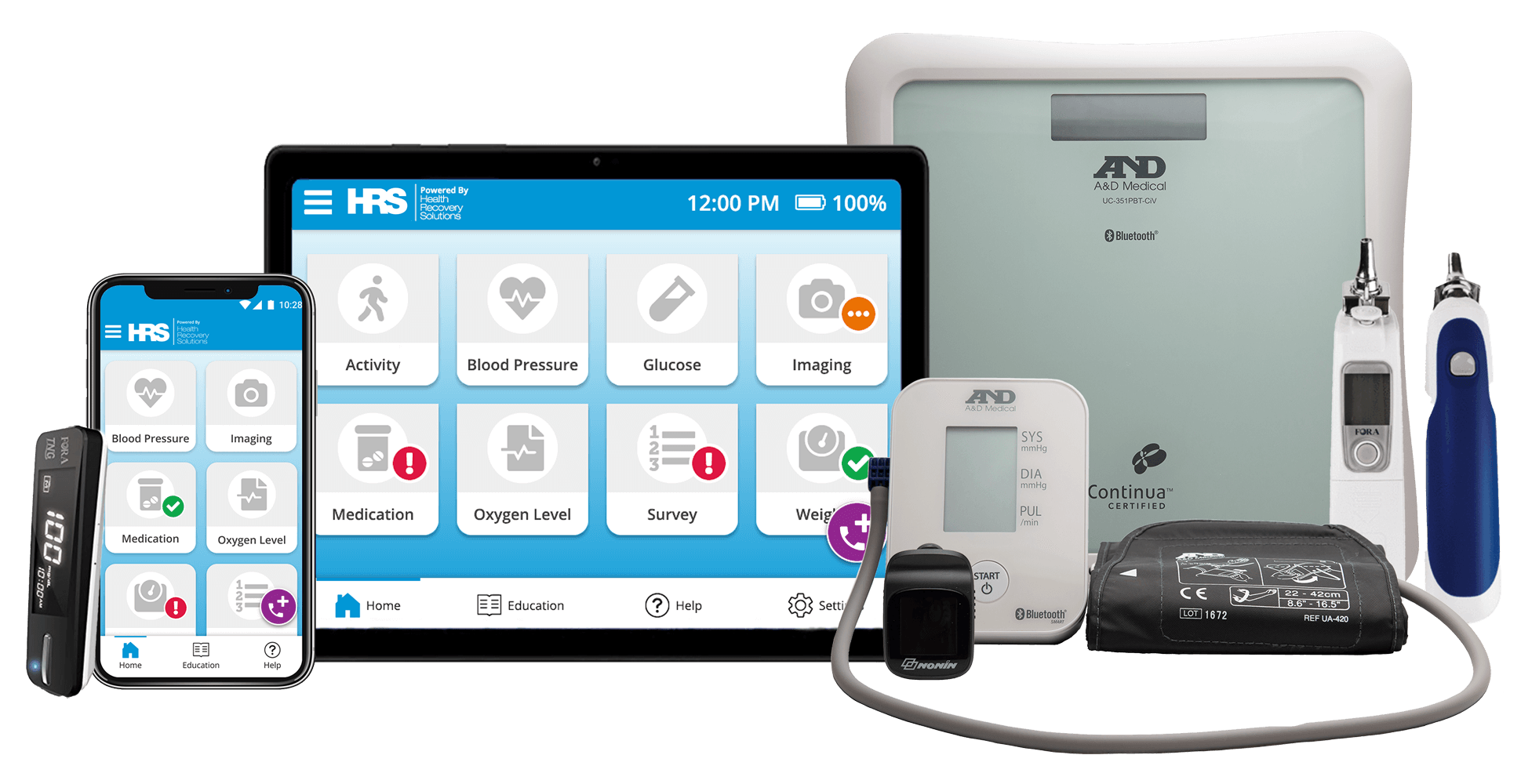 Get Started with Remote Patient Monitoring
Connect with an HRS Digital Health Advocate to learn more about virtual visits and remote patient monitoring options for your organization.
Get Your Free Demo
The COVID Care at Home program required comprehensive collaboration across FirstHealth providers, departments, and organizations. Prior to launching the CCAH program, FirstHealth developed and shared detailed educational materials to support clinician buy-in and patient engagement, including a COVID-19 Disposition Tool, Oxygen Tip Sheet, CCAH Nursing Workflow, and COVID-19 Plan of Care guidelines.
Telehealth and RPM Services Provided by FirstHealth Included:
Telehealth consultations offered through virtual visits or phone calls to assess patient status and determine the need for additional services such as antibody infusion, oxygen, or home health.
A partnership with an oxygen vendor to allow for rapid turnaround of oxygen deliveries and expand hours of availability. In turn, this partnership provided faster access to medical providers in case of changes in the patients condition that required expedient interventions.
Biometric monitoring to identify exacerbations in patients' health status and prevent potential ED visits and hospital readmissions.
Daily survey and teach-back quizzes enabled FirstHealth clinicians to closely monitor symptoms and provided additional education regarding COVID-19 symptoms and vaccinations, when applicable.
Medication reconciliation, antibody infusions, oxygen support provided to patients identified through consultations and vital sign monitoring. Patient education and coaching provided to offer additional support.
The COVID Care at Home program proved critical to FirstHealth of the Carolina's overarching response to the COVID-19 pandemic. The CCAH program allowed FirstHealth to discharge patients from emergency department—avoiding a hospital admission while providing a safe net throughout recovery—while increasing ED throughput.
In addition, FirstHealth was able to avoid canceling elective procedures during COVID-19 surges, an outcome many healthcare organization were unable to avoid, because of the hospital beds, PPE, and essential staffing resources made available due to the CCAH program.
Patients enrolled in the CCAH program, received telehealth and RPM services for an average of 10 days after being discharged from the hospital. While enrolled on the telehealth program, patients were asked to record their vital signs and respond to symptoms surveys. Across the nearly 200 patients monitored, the CCAH program achieved a daily adherence rate of 73%. In addition, the program successful reduced ED utilization, with only 5 unplanned ED visits occurring throughout the year-long program.

IN THE NEWS
FirstHealth Offers a Powerful Look at Hybrid Telemedicine in Action
At FirstHealth of the Carolinas, a health system based in Pinehurst, North Carolina, bed capacity always seemed to be at the forefront of challenges, a not uncommon situation in healthcare. "While there are many hospitals that have started a hospital at home program, we decided to look at this type of program from a different angle," said Stephen Kapa, administrative director of telehealth services. "The program we came up with is called Observation at Home."
View article

IN THE NEWS
How One Health System Achieved $1.9 Million in Readmission Savings
A study with FirstHealth of the Carolinas targeted patients who were ineligible for Medicare-certified home health services. The grant-funded initiative saved FirstHealth $1.9 million over the study period and reduced hospital readmissions 53% by utilizing telehealth and patient engagement software to care for 220 high-risk patients.
View article