Our nation is aging - recent data from the US Census predicts that the number of American ages 65 and older is projected to nearly double from 52 million in 2018 to 95 million by 2060. As our population ages, it will be essential that innovative applications are harnessed to ensure patients can age in place. This is vital, not only for improving and maintaining the individuals quality of life, but for ensuring our hospitals are not over run - in fact, research shows that hospital bed capacity in recent decades has decreased.
This suggests a divergence between demand and supply. Our population is aging, while the amount of hospital beds are decreasing. There's a clear disconnect here. Telehealth can help by providing a tool inside the home, empowering individuals to age in place, resulting in some of the demand on hospitals can be reduced.

What piece does non medical home care play in this puzzle? The answer - a corner piece, a piece of the puzzle that is essential. Non medical home care ensures that individuals are able to remain safe, comfortable and at home. How? By providing caregiver support, managing fall risk, helping with chronic care management, and ensuring the individual remains adherent to their clinician's prescriptions (medication, physical therapy, telehealth, or otherwise), helping with meals, bathing and dressing, and so much more.
9/10 Americans over 65 want to age in place - telehealth helps make this desire possible.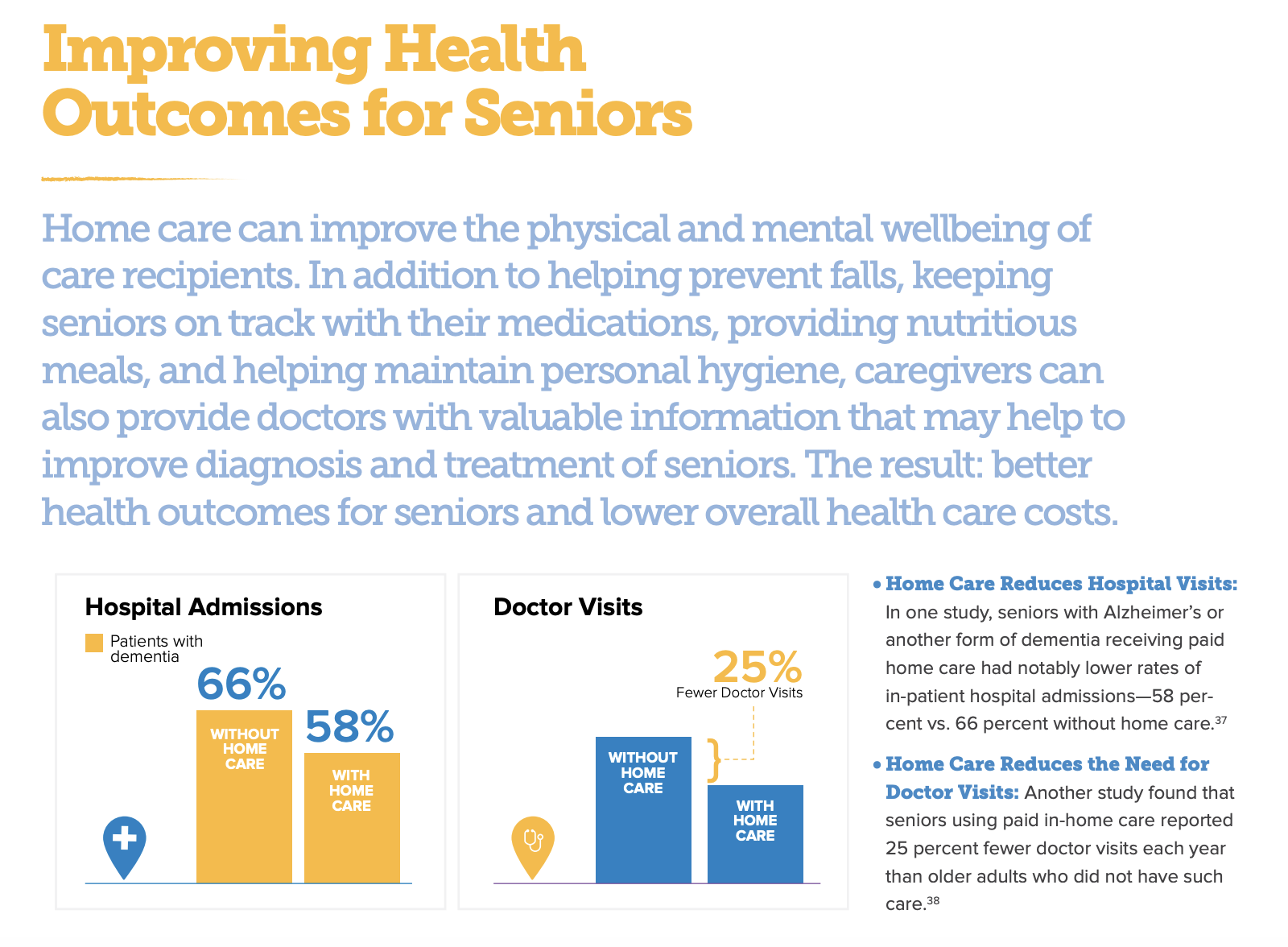 Image Source: Caring for America's Seniors: The Value of Home Care, Home Care Association of America & Global Coalition on Aging, 2016


Non-Medical Home Care as a Telehealth Facilitator
One recent study on the efficacy of using mobile technology to optimize home care found that the combination of mobile technology and observations from care workers in the home can help predict 30-day readmissions. The study supports that technology helps improve the efficiency of home care and empowers caregivers in the home.
Imagine this scenario: William, a 70 year old patient, lives alone. William needs help managing his daily activities of living. William's family has hired a non medical home care agency, Home Safe Home Care, to help with bathing, meals, medication management, and to help manage William's fall risk. Home Safe has clinical case managers and nurses on their team who work closely with the in-home aides. Home Safe already has a clinical escalation protocol in place to escalate situations from the in-home aid to the clinical case manager, nurse, or patients' physician.
Home Safe uses telehealth to improve William's compliance with his care, and also involves Miranda's, William's aide, beyond her daily personal care tasks. Miranda is a telehealth facilitator, a health coach for William - she is not performing any medical tasks.
Through telehealth, the agency provides William with medication reminders to ensure he remains adherent, facilitates education on his condition, and provides continuous connection to the clinical case manager at the Home Safe offices through video visits (when Miranda facilitates a video visit, the video visit is billable). Miranda makes sure William remains adherent to the remote patient monitoring and telehealth program, she helps him navigate the technology, ensuring that William's Home Safe clinical case manager is involved as needed.
This improves Miranda's efficiency, improves Miranda's satisfaction with her work, while also ensuring William remains compliant with his telehealth care plan. Telehealth helps William maintain his health and it ensures continuous connectivity to his clinicians at the Home Safe office. If an adverse event occurs (for example, a high blood pressure reading), the clinical case manager is alerted in real-time through the telehealth platform that Miranda is helping facilitate.
Home Safe uses telehealth to ensure their care is as high touch and involved as possible.
Home Care, Telehealth & Medicaid
All 50 states have at least one Medicaid program that provides assistance to individuals living outside of nursing homes - at home, adult day care, assisting living. These programs, however, differ state by state. Every state has different home care benefits, depending on the type of Medicaid program the individual is enrolled in (Medicaid State Plan, Medicaid Waivers, Institutional Medicaid).
For states that require a nursing supervisory visit monthly, a telehealth program is a fantastic option. Additionally, some organizations pay for their telehealth programs through Private Pay programs, while others garner financial support from commercial insurers.
For home health agencies seeking reimbursement for telehealth services, there are multiple options. To learn more about reimbursement opportunities and how to design a telehealth program for your home health agency, request a demo.
The Growing Need for Home Care
The COVID-19 pandemic revealed many things, one being the essential need for home care. Elderly individuals, who were most at risk of complications from COVID-19, were safest at home - out of the hospital and communities where the virus spread rapidly. Home care played a huge role in making this possible, by providing individuals with the support they needed to manage the daily activities of living. By providing telehealth in addition to in-home nursing care, home care agencies were able to ensure these individuals remained in continuous communication with their clinicians.
For too long home care and home care aids have been an underutilized and under-appreciated as an essential piece in care coordination. As our population continues to age, and more and more individuals prefer to age in place, home care will play a vital role in ensuring that individuals receive the assistance they need, safely and comfortably, at home. There is huge opportunity for home care aids to play an integral part for telehealth adherence and support - adding telehealth to the home care toolbox will only optimize home care's essential role in the care continuum.