Staffing a Telehealth Program
Most of the staffing resources when designing a telehealth or remote patient monitoring program will be invested in the clinician(s) performing the daily monitoring of patients. Many organizations will opt to either have LPN's or RN's monitor the patients. Keeping the staff in house allows for optimum collaboration between clinicians and closer control of the telehealth program.
However, there are some drawbacks to staffing a program internally. Training and on-boarding new telehealth nurses can drain significant staff resources. Sometimes staffing resources or appropriate candidates are limited or unavailable. Once you have the nurses trained, any staff turnover, especially in a small program, can be a devastating blow that can take months to recover from.
Using a Call Center
Medical call centers, particularly when combined with telehealth services, enable providers to extend their patients' care continuum and provide exceptional treatment that reduces hospital readmissions and costs. Leveraging a clinical call center is a great way to supplement or even replace your internal clinical resources to monitor your telehealth patients. Most call centers will have options to select weekend, after hours, business hours or even 24/7 packages for monitoring.
With a clinical call center, trained telehealth nurses with years of experience are immediately assigned to monitor your patients. These nurses are specially trained to monitor patients efficiently and effectively. A clinical call center facilitates a customized triage procedure – your organization can control exactly which concerns get sent back to your clinical team. Since the telehealth nurses are provided by the call center, no training or on-boarding is needed, and staff turnover at the call center will not create major interruptions in service provided. Organizations who already have a telehealth nurse can leverage after hours and weekend coverage, or even supplement their daytime monitoring with non-clinical models.
Case Study: The U Care Initiative
Lacuna Health, a leading nationwide registered nurse-led clinical engagement company, collaborated with the University of Louisville Hospital to deploy the U-Care initiative, a post-discharge stroke program aimed at monitoring recovery, engaging patients and family members, and reducing readmissions. The pilot program followed 250-stroke patients, providing both patients and caregivers with telephonic support upon discharge from Louisville University Hospital's Stroke Center.
A 2018 study of the program found that the U Care program assisted Louisville University Hospital reduce internal staff workload, support patient and physician needs, lower the risk of unanswered patient calls, decrease missed communication opportunities with patients, and achieve overall patient contact goals. The study noted several differentiating features that contributed to the pilot program's success, and subsequent expansion.
The first distinguishing feature, Lacuna worked with the University of Louisville Hospital to create a customizable communication protocol, with Lacuna acting as an extension of the Hospital's Stroke Center. The protocol was designed to accomplish several key goals: answer patient questions, outline next steps, set reminders for follow-up visits, and identify high-risk patients. Lacuna's RN-led team conducted patient outreach 2, 7, 21, and 45 days post-discharge, accessing patient health records to review pertinent data and ask patient-specific follow-up questions to gauge health status. Health assessments focused on care plan reinforcement, medication and pharmacy assistance, promotion of follow-up care, depression screening, and symptom exacerbation.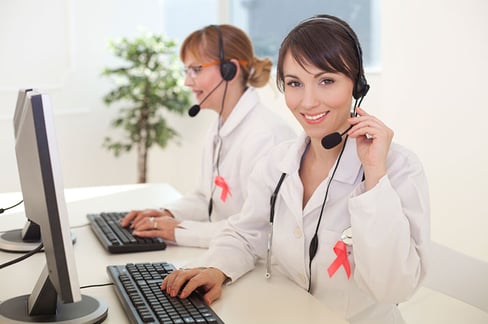 The U Care program established an escalation system based on patient need. U Care nurses would code calls in one of three categories: E1, E2, E3.
E1: Non-clinical
Topics covering patient experience, constructive feedback, billing, and other responses that were sorted and relayed to appropriate departments.
E2: Clinical Response Required
Medication questions or discrepancies, signs of depressions or fall risk.
E3: Urgent Medical Need
Patients displaying signs of rapid decline or increased risk of hospitalization.
The creation of call codes streamlined patient care and clinical response by enabling clinicians to rapidly respond to high-risk patients and subsequently stage interventions.
Debunking Call Center Misconceptions
The U Care program created a centralized point of contact for stroke patients and a cross-facility initiative to streamline patient follow-up regardless of post-discharge plans. Third-party medical call centers, as evidenced by the U Care program, provide a trained contact team to relieve the burden of staffing and training from the healthcare provider. A study published last year in the Nursing Administration Quarterly found that nearly half (46.67%) of clinicians surveyed voiced displeasure in having to perform post-discharge follow-up calls. Medical call centers alleviate clinician workload, increasing clinician satisfaction and, potentially, clinical outcomes. When applied to the high touch models of telehealth and remote patient monitoring programs, call centers can make an even greater impact in reducing clinician workload.
The comprehensive escalation system and customized communication protocol established by Lacuna and the University of Louisville Hospital contradict the misconception that outsourcing to a medical call center triggers a disruption in the care continuum.
As demonstrated by the results of the U Care, the collaborative custom communication protocol ensured patients were being asked targeted questions, received comprehensive follow-up, and had access to an RN-led team 24/7. The escalation protocol was instrumental in preventing hospitalizations and ensuring patients received clinical interventions when their health status exacerbated.
Partnership of Telehealth and Call Centers
Telehealth technology provides clinicians with real-time patient data and provides patients with the ability to engage in their care and communicate with clinicians outside of the standard hours of care. This extension of the care continuum and increase in patient data has proven critical to reducing hospitalizations. The influx of patient data, coupled with continuous patient monitoring, has only amplified the need for call centers to augment healthcare agencies, ensuring patient needs are met 24/7.
In April, HRS and Lacuna partnered to relaunch CareConnectTM, offering healthcare providers continuous monitoring and additional coverage for patients and their loved ones. The HRS-Lacuna partnership enables hospitals, post-acute providers, ACOs, and physician practices to provide coordinated care to their patient populations regardless of location or time of day. CareConnectTM furthers the overarching healthcare industry goals to value-based care, achieve clinical outcomes, and reduce hospitalizations.
References
"University of Louisville Hospital's U Care Program Redefines the Post-Discharge Journey for Stroke Patients." Insights - Lacuna Health, Lacuna Health, 2018, brandcast-cdn.global.ssl.fastly.net/f2799578-4b2f-403b-871c-f14123cb8e74/d156a0e7-f5f0-4a7a-bdd4-931d07d2ea2d/29b6d1bb8bc4cb8c608a27794bfa6804/Lacuna-UL-Stroke-White-Paper.pdf.
Meek, Kevin, L., MHI, BA, BSN, RN; Williams, Paula, PhD, MBA, MSN, RN; Unterschuetz, Caryn, J., MHI, BSS, RN. Outsourcing an Effective Postdischarge Call Program: A Collaborative Approach. Nursing Administration Quarterly: April/June 2018 - Volume 42 - Issue 2 - p 175–179 doi: 10.1097/NAQ.0000000000000289
"Health Care Call Center Benefits for Practitioners and Patients." McKesson, 2019, www.mckesson.com/blog/why-call-centers-benefit-practitioners-and-patients/.