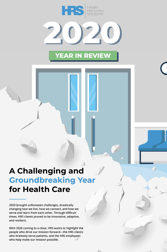 2020 brought unforeseen challenges, drastically changing how we live, how we connect, and how we serve and learn from each other. Through difficult times, HRS clients proved to be innovative, adaptive, and resilient.
Going into the New Year, HRS wants to highlight the people who drive our mission forward - the HRS clients who tirelessly serve their patients, and the HRS employees who help make our mission possible.
---
COVID-19 Resource Library
The COVID-19 Resource library offers over 40+ resources to help you respond to the pandemic, as well as 3 guides to inform your COVID-19 response: How to Reduce Length of Stay, How to Divert from the Emergency Department, and How to Deploy COVID-19 Monitoring.