Health Recovery Solutions has been ranked #272 on the Inc. 5000 List of America's fastest growing companies. Jarrett Bauer, CEO and co-founder of HRS, was o feaured in Inc. Magazine's special Inc. 500 issue. Jarrett's path to success is an inspiring story of overcoming adversity. His extraordinary journey highlights the powerful influence of family in helping him reach his greatest potential. Continue reading below for more of Jarrett's story.
HRS has received the great honor of being named #272 on the Inc. 5000 list of America's Fastest Growing Companies. Since 1982, Inc. Magazine has annually recognized the 5000 fastest growing companies in the United States. HRS has been placed in the top 10% of the Inc. 5000 list this year and we couldn't be more thrilled.
Inc. Magazine also selected Jarrett Bauer for a feature in the annual Inc. 500 issue. Jarrett sat down with Inc. to talk about his incredible journey to CEO and how overcoming hardships helped him reach where he is today.
The Team Behind HRS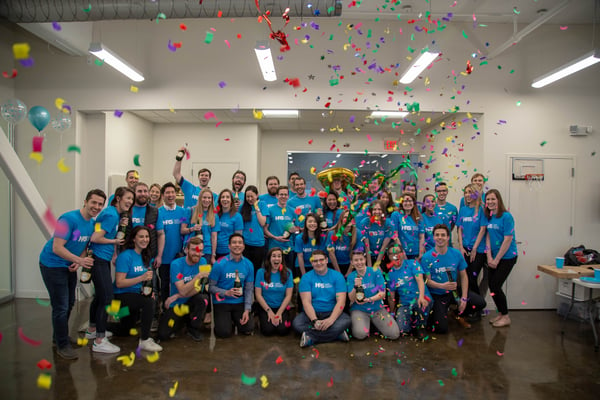 When Inc. asked Jarrett Bauer what surprised him most about being an entrepreneur, he replied,
"Watching people you hire become all-stars after starting at the bottom."
The success of HRS is a direct reflection of dedicated leadership and constant team support. When someone becomes a member of the HRS team, they have unlimited potential to succeed. The HRS co-founders, Jarrett Bauer, Rohan Udeshi, and Dan Priece, have created an environment where people can learn, collaborate, and thrive. We are bound together by our shared passion for improving the healthcare system and enhancing the way care is delivered to patients.
Since the company's inception in 2012, HRS has served over 25,000 patients and the team has grown from 3 people to over 30 people. Every day, we work to improve the lives of our patients, and the lives of the caregivers and clinicians who serve them. As HRS continues to rise, we never lose of sight of what were founded on: the patient is always first.
The Story of a Mother Willing Her Son to Achieve His Potential
According to Jarrett, he's not known as Jarrett Bauer, he's known as Jayne Gilbride Bauer's son. Much of Jarrett's will to succeed can be traced back to his mother's unwavering faith in him. With the help of his mother, Jarrett overcame multiple learning disabilities and developed the confidence to create something of his own.
"I have my company only because people looked out for me. My mom helped me get to where we are. if it weren't for her, we would have nothing."
The idea for HRS was formed when Jarrett was an MBA student at Johns Hopkins. At this time, his grandmother had been readmitted to the hospital with heart failure. When he realized the main reasons for readmission were medication noncompliance, diet, and lack of caregiver support, he decided to create a company that could offer a solution.
"The main reason my grandma went back to the hospital was because she didn't take her medication. I thought, 'The worst thing in the world is not to have the tools to be successful in life.' "
Over the past 6 years, HRS has experienced tremendous growth and continues to remain at the forefront of healthcare technology. Success stories from patients, clinicians, and family members inspire us every day. We won't ever stop working to improve their lives.
If you'd like to read the full article from Inc. Magazine, check it out here: A Tribute To The Women Who Made Him What He Is.