Our partners are the backbone of everything we do at HRS. We are committed to bringing a solution at scale to the complex populations at risk for Coronavirus. This week, many clients have reached out to the HRS team in effort to be best prepared for an outbreak should it occur. We are working with our partners directly to ensure that they are equipped with the telehealth tools they need to care for their patients.

HRS has taken several important steps to address COVID-19:
We have developed a clinical pathway for screening. The tool includes symptom surveys, temperature monitoring, oxygen monitoring, and video visits to achieve early detection of disease in the vulnerable senior population. This will be available on all tiers of our software (PatientConnect Complete, Core & Mobile).
We have expanded our inventory to be prepared for a global pandemic. We will carry a constant inventory of 5000 PatientConnect Complete monitoring kits in to meet an insurgence of demand if needed.
We are providing bulk discounts on PatientConnect Mobile, which can reach patients directly through their own device (iOS and Android).
We are continuing to provide our partners with guidance on best practices for sanitation and decontamination of telehealth equipment.


To learn more about HRS' response to COVID-19, reach out to our team directly.
Telehealth's Role in Prevention and Screening
Health Systems are readying as novel Coronavirus (COVID-19) continues to spread across the globe. The disease is expanding rapidly, now with cases recorded in 77 countries and 14 US states (at the time of publication). With this rapid spread has come increased fear and uncertainty regarding diagnosis and treatment of the virus.
While there are still many unknowns about COVID-19, we know that preventive measures are crucial. We also know that symptom management and close clinical monitoring of patients once they become symptomatic is essential in preventing further transmission. For many patients of HRS clients, the majority of whom are elderly and have one or more chronic conditions, preventive measures can be lifesaving.
Telehealth enables patients to get the care they need at home, helping clinicians monitor and communicate with patients quickly while still maintaining high quality of care. Telehealth can play a vital role in the context of a virus where there is uncertainty about transmission, and a belief that minimizing exposure is essential. By using telehealth, the spread of disease can be mitigated, without sacrificing quality or compromising safety.
According to the CDC, patients with multiple chronic conditions (hypertension, diabetes, cardiovascular disease) and patients over 60 years old may be at higher risk for COVID-19. Through telehealth and remote patient monitoring, we can ensure that these patients are being continuously monitored while remaining at home, where they can avoid transmission to other healthcare and community members they would otherwise come in contact with while seeking outside care.
With this in mind, we must ask ourselves: how can we embrace telehealth as a resource to prevent and screen for COVID-19?
Education as an Essential Resource
Telehealth can play an essential role in educating patients and health care providers about the transmissibility and treatment of COVID-19, and can aid in communicating updated news as new findings emerge. We have a general understanding of how the disease spreads – through person to person contact, either direct or indirect (i.e., through respiratory droplets, or close contact between people). We can assume that a key way to minimize exposure to COVID-19 is to be proactive and responsible with personal hygiene. What remains unknown about the disease is when exactly a person starts becoming contagious (i.e. before, during, or after the development of symptoms).
Until we know for sure, we should likely assume that COVID-19 is contagious before symptoms start appearing. This way, we can ensure we are taking the correct preventative measures.
Telehealth can help providers educate patients on prevention and how to best avoid transmission.
Education delivered to patients through telehealth modalities (video, infographics, video visits, text messaging, phone calls) can help patients better understand how to effectively prevent catching COVID-19, and what to do if they're experiencing concerning symptoms. For example, adding the WHO's guidelines for handwashing (below), and the CDC's video resources about the disease, groups at risk, and protection/prevention to mobile apps and tablets allows for easy patient access to crucial preventative information.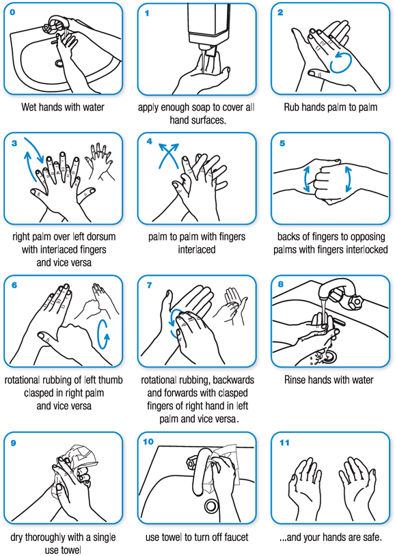 Symptom Surveys & Clinical Monitoring as a Screening Tool
In addition to leveraging telehealth for education, providers can use telehealth as a triage tool for COVID-19. Through symptom surveys, providers can screen patients based on the CDC's epidemiological & clinical guidelines. Survey questions, like the ones included below can provide real-time data into patients' symptoms while helping providers identify and manage patients who may be showing symptoms of COVID-19.
Symptom surveys help low-risk individuals avoid clinics and hospital visits, while identifying and facilitating escalation of care for patients who require urgent in-person intervention. While clinicians cannot confirm a diagnosis of COVID-19 through solely telehealth interventions, they can screen and recommend the next steps a patient should take – an approach that was proven very successful during seasonal influenza (flu) outbreaks.
COVID-19 is a respiratory disease with symptoms like that of the seasonal flu. RPM facilitates real-time insight into patients' vitals through the tracking of blood pressure, temperature, oxygen level, and more. Clinicians can see in real-time if their patients' condition state is changing and intervene accordingly.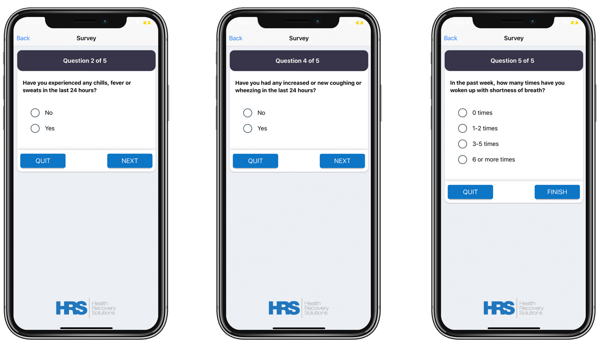 Virtual Visits for Immediate Communication
For patients showing flu-like symptoms (fever, cough, difficulty breathing), it may be best to remain home and use virtual visits to see their provider.
During infectious disease outbreaks, virtual visits can be used in a variety of ways, including:
For education around prevention – providers can educate patients about transmission and modalities for prevention
For follow up visits with healthy individuals to avoid hospital visits – healthy individuals with routine hospital appointments can stay out of the hospital where there might be sick patients, preventing exposure in waiting rooms and healthcare facilities
With symptomatic individuals to screen and monitor – the flu and COVID-19 have very similar symptoms, and are therefore tough to differentiate; for individuals showing flu-like symptoms, virtual visits can be used for evaluation


In times of uncertainty, we look towards resources that provide comfort, support and guidance. By providing tools for communication, disease monitoring, and education, telehealth can help ease the worries of patients and caregivers, while also ensuring patients are screened for COVID-19. Most important, and essential, is that patients take their health into their own hands, that they wash their hands, practice personal hygiene, remain informed and educated about the state of the outbreak, and contact their clinician if they are concerned.
For more information about COVID-19, visit the CDC.