To assist patients with installation of HRS telehealth and remote patient monitoring equipment, HRS has launched PatientDirect+. PatientDirect+ builds upon HRS' existing logistics and inventory management solution, PatientDirect.
The PatientDirect program provides customers access to HRS' logistics and inventory management service, which includes unlimited:
Shipping
Sanitization
Software provisioning
Equipment checks
Inventory tracking
Inventory holding
In addition to all of these services, PatientDirect+ allows clients to subscribe to unlimited virtual installations of HRS equipment into the patient's home.

Introducing the Virtual Installation
A key predictor of telehealth program success is patient compliance and adherence. For a patient to see the benefits of telehealth and RPM long-term, they must understand how and when to use their telehealth equipment.
During the virtual installation, which is a 1:1 phone call between an HRS engagement specialist and the patient, HRS helps the patient install the equipment correctly in their home. Beyond introducing the patient's to the platform, the HRS expert introduces patients to the numerous educational resources available through the platform to ensure patients have the tools they need to learn about their condition and self-manage their care effectively.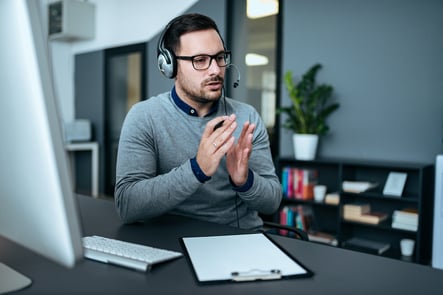 HRS Engagement Specialists
The virtual installations, which come standard with PatientDirect+, are conducted by HRS' team of Engagement Specialists who are trained in virtual equipment installations. Each installation takes between 20 to 35 minutes.
During the virtual installation:
The RPM program is reviewed (custom to the client)
Every medical device sent to the patient is tested in real-time
The patient is walked through how to use the tablet day-to-day
The patient is given access to HRS' application for caregivers, CaregiverConnect, to include the caregiver in the telehealth program
The patient is equipped with information with who to contact if questions arise
At the end of the virtual installation, the Engagement Specialist sends a follow-up email to the client's designated telehealth program contact(s) outlining the success of the virtual visit and next steps.
Benefiting the Patient and Clinician
The PatientDirect+ pilot program with two health systems found that virtual installation has two huge benefits:
It increases patient adherence to the telehealth program
It improves clinical efficiency by allowing clinicians to focus on clinical tasks instead of initial installation of telehealth equipment
---
Better Installation Better Compliance
Better Clinical Outcomes Higher ROI

---
The virtual installation provides the patient with the knowledge they need to be successful with telehealth. It allows the clinician to focus on their clinical workload, easing their worries around whether the patient understands how to use the technology and the value of the telehealth program.
Want to learn more about PatientDirect+? Contact our team today.