Explore Virtual Visits with HRS
Through the HRS platform, a care team can conduct virtual visits with a patient for ongoing screening and monitoring, for education and prevention, and for follow-up visits. Virtual visits enable healthy individuals to stay out of the hospital and have routine appointments at home—and patients with COVID-19 symptoms to virtually manage the care process with their care team.
---

Fill out the form to connect with a member of the HRS team. We'll help you understand how HRS' platform can help your care team:
Conduct virtual visits to monitor patients for COVID-19 symptoms at home

Use virtual visits as part of a comprehensive patient screening and monitoring process

Understand patients' COVID-19 symptoms in real-time, and respond accordingly

Improve overall patient engagement—and increase safety to both the care team and patients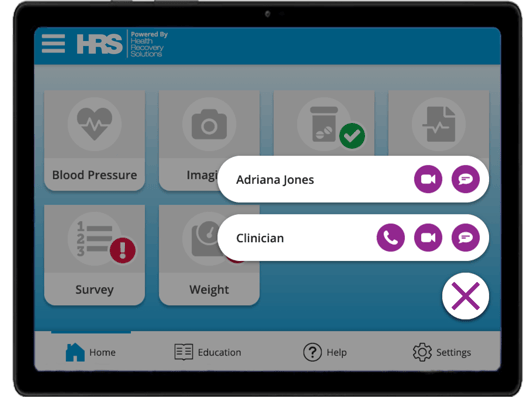 Using either the HRS tablet or PatientConnect Mobile, patients can connect directly to their clinician through voice, video, and chat functionality.